Reminder to attend tomorrow morning's Second Cup of Coffee at 8:30am in the Yolo library. Graduation requirements will be discussed and coffee/pastries will be served.

Join us for Second Cup of Coffee tomorrow (8/31) at 8:30am in the Yolo Library. Coffee & breakfast will be provided.

If you were unable to attend the Yolo Round Up on your scheduled day, please come by today, Friday 8/6, from 8am to 3pm.

Join us for the NCLUSD Annual Back to School Festival on Saturday, July 31 at the McConnell Center, 1348 Patchett Drive Time: 8:30 am – 12:00 pm Come visit school and community booths for information on the 2021-2022 school year and services available to Newman residents. Raffle Prizes, Free Food, Music, Games

Join us for Loteria Night today May 5th, 6-8pm. Zoom link sent out through ParentSquare & Canvas.


Reminder that Spring Break begins tomorrow, April 2nd. No school through April 9th. See everyone back on Monday, April 12th!

Spring Break Meal Kits will be distributed today, Wednesday, March 31 from 11:00am-12:00pm. 1 Kit per Child, no pre-registration necessary; first come, first served. Meal Kits can be picked up at Von Renner, Hunt, Barrington & Yolo. USDA Boxes will also be distributed Wednesday, March 31st.

New Meal Distribution Schedule Beginning March 15, 2021 for all schools.

Reminder, no school Thursday 2/11, Friday 2/12, or Monday 2/15. Have a restful 5-day weekend!

Reminder: Follow Rally Schedule on Friday January 22.

Meals are available for curbside pickup Mondays, Wednesdays and Fridays from 11 am - 12 pm at Hunt, Barrington, Von Renner and Yolo; Lunch Menu for January 13-22

Beginning January 6, meals will be available for curbside pickup Mondays, Wednesdays and Fridays from 11 am - 12 pm at Hunt, Bonita, Barrington, Von Renner and Yolo

NCLUSD will transition all instruction to distance learning when we return from winter break January 6, 2021 through the third quarter of the school year ending March 12, 2021.

NCLUSD is offering meal kits for children ages 1-18 to ensure children in our community have food during Winter Break. Registration starts December 1, 8am. Pre-Order Here:
https://forms.gle/ASvjNxZXFrd1MiXk9


November lunch time distribution changes beginning November 2nd.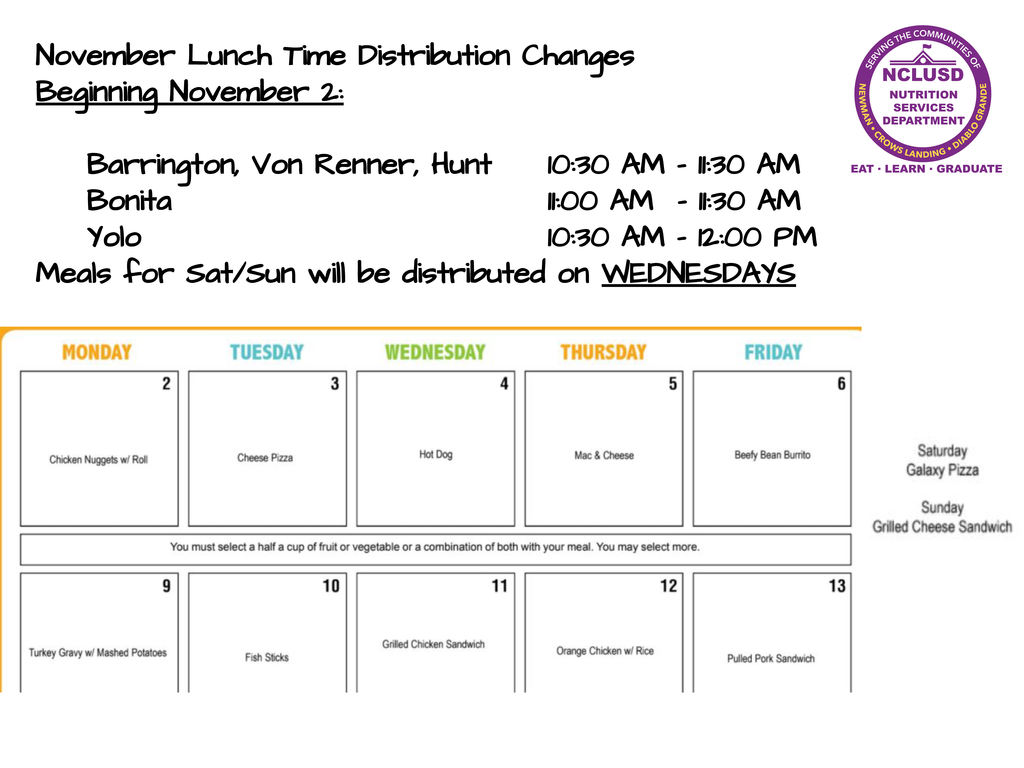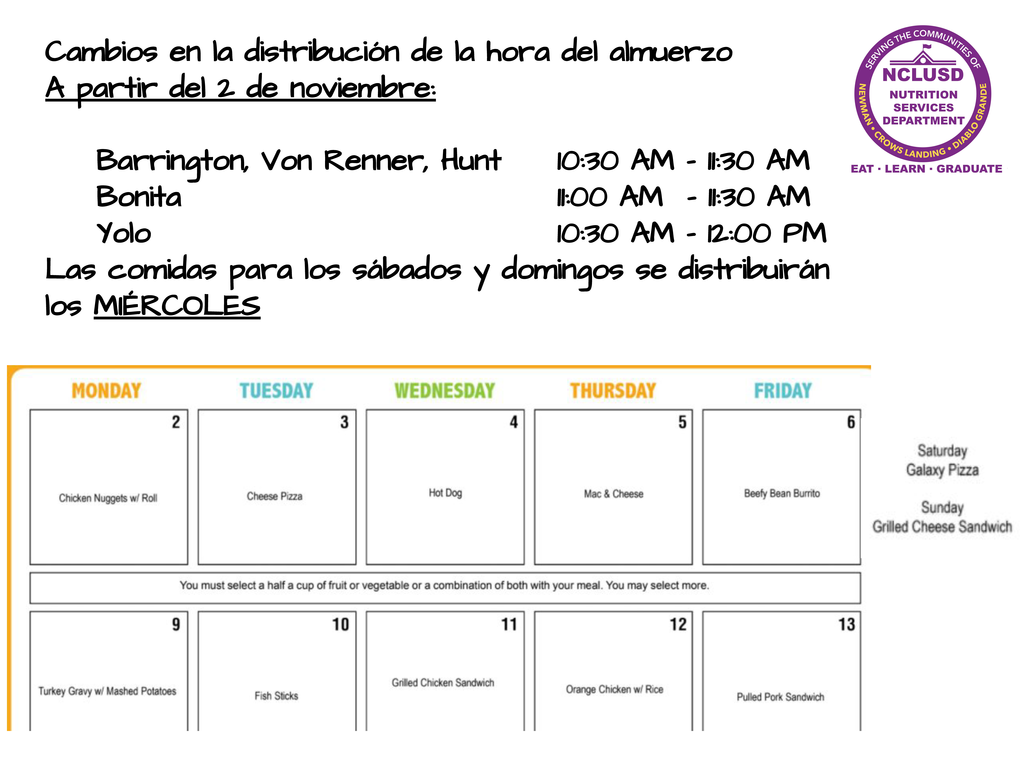 20lb boxes of pork and chicken will be distributed on September 25th and October 2nd from 11am-12pm at Barrington, Hunt, Von Renner and Bonita Elementary Schools and at Yolo Middle School. Boxes will be handed out first come-first serve basis while supplies last. Meal distribution will be served at the same time.

Meal distribution schedule beginning September 1: Mon-Fri 11am-12pm at VonRenner, Hunt, Bonita, Barrington & Yolo. Diablo Grande please call 862-2158 to arrange meal delivery to your door. Free for all children ages 1-18 and includes breakfast, lunch and supper.